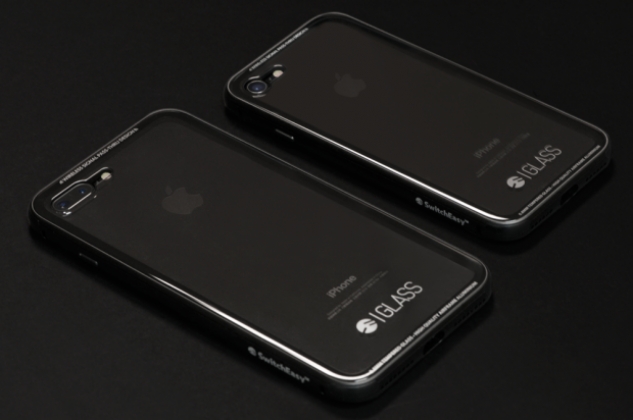 WORLD'S FIRST GLASS CASE FOR JET BLACK IPHONE
The Jet Black is the most popular color for iPhone 7. Unfortunately its also the most delicate phone Apple has ever created. With its pure dark shell, It's prone to fingerprints, it's a dust magnet, and the casing can amplify the tiniest scratches on its surface.
Plastic cases are flexible and dust can get into the case causing abrasions due to friction from the phone moving inside the flexing case. Films don't cover the whole area and protection is minimal to say the least.
We feel that current cases in the market would not be able to protect the delicate surface of Jet Black....
It's time to re-invent protection for Jet Black iPhones.
Through our design and prototyping process, we have created not ONE, but THREE WORLD'S FIRST's features never seen before in a protective case!
World's First "See-Through" Glass Back. Durability REDEFINED.
With SwitchEasy Glass, we have created something thats never ever seen in a case. At 7H hardness and with optical transparency rated at 90%, its the most durable and transparent case you'll ever get. With our ultra durable, ultra transparent glass back, you can now enjoy your Jet Black without compromising its beauty.
World's First Air Barrier™ Touchless Protection.
Specifically designed for Jet Black iPhones.
The best way to protect Jet Black iPhones is not to touch its delicate back. By specifically allowing a 1mm gap between the phone and the glass back, less than 13 percent of your iPhone's surface is contacted by our case. Our rigid case structure composed of aluminium and glass made sure the gap between glass and your phone will never be compromised.
No contact means No chances for scratches. It's just that simple.
ZERO WATERMARKS!
Unlike many transparent cases, GLASS is one of the few cases which can guarantee ZERO WATERMARKS on your Jet Black thanks to Air Barrier™. Now your bragging rights stays when you get your Jet Black!
GLASS - Welcome to the new era of TOUCHLESS mobile protection.